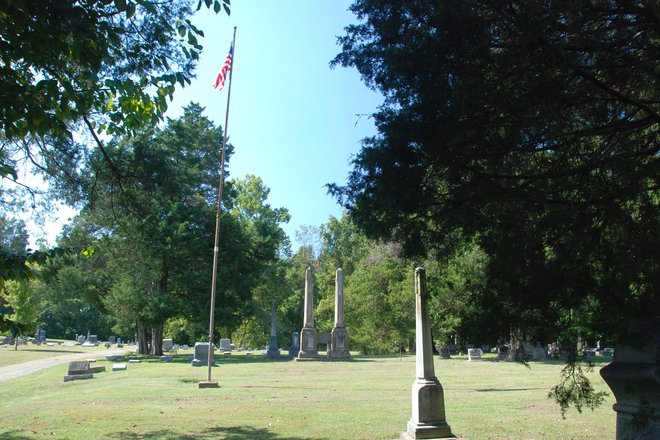 The driveway proceeds west up a gentle slope and into the cemetery, before branching to left and right. Near the entrance is a tall flag pole.
In the surviving histories of Cairo, the first mention of a cemetery is in an 1858 report: "The past, present and future of the city of Cairo, in North America: with reports, estimates and statistics". The report enumerates Cairo City property, including a "Cemetery of the Lotus" with a valuation of $741.52.1
This, however, is likely not the Cemetery of the Lotus.

John Landsen's history of Cairo, published in 1910, describes the location and size of the Cemetery of the Lotus:
A tract of land five hundred feet in width and thirteen hundred and seven feet in length and amounting to fifteen acres, situated about a quarter of a mile, more or less, east of the Mobile & Ohio Railroad and about two miles, or a little less, above the Illinois Central bridge was surveyed and platted into blocks, lots and avenues, on the 29th day of November, A. D. 1855, for a cemetery, for the use of the people of the city of Cairo.2
Cairo City Cemetery is two miles further north; the location and geometry described is that of Beechwood Cemetery.
But accepting Beechwood as the Cemetery of the Lotus fails to solve the puzzle; for Beechwood, which is about the size described, is a modern cemetery; the sign indicates that it was established in 1900, and the monuments are generally of newer design.
Across the street from Beechwood is Beech Grove Cemetery, a smaller and older cemetery - estabished in 1855, like the Cemetery of the Lotus. However, it is only a few feet from the train tracks, not the quarter mile described by Landsen.