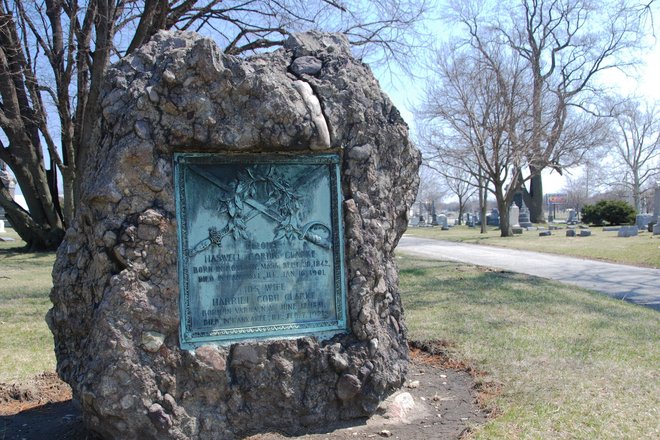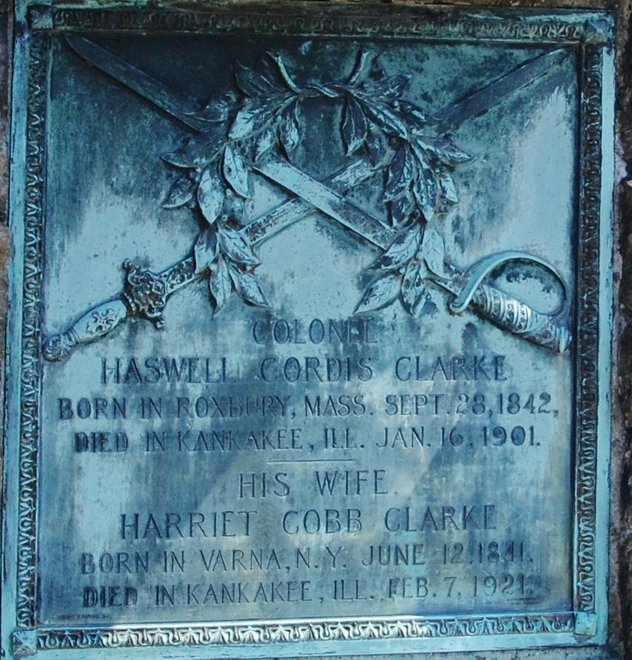 Colonel Haswell Cordis Clarke, Born in Roxbury Mass., Sept 28 1842; died in Kankakee, Ill. Jan 16, 1901.
His Wife, Harriet Cobb Clarke, Born in Varna NY June 12 1841, Died in Kankakee, Ill. Feb 7 1921.
Haswell Cordis Clarke graduated from Harvard University in 1863. He was elected in 1899 for a two-year term as Mayor of Kankakee, dying in that office in 1901. The "Report of the Secretary of the Class of 1863 of Harvard College, June, 1893, to June, 1903." 1 gives the following tribute, attributed to "Bailey":
Resolvedy That in the death of our classmate, Haswell Cordis Clarke, at the time of his decease Mayor of Kankakee in the State of Illinois, the Class loses another of its loved and honored members, the promise of whose early years has been abundantly carried out in his manhood. Full of energy and application, steadfast in his college course and service for his country in the army, he settled at the close of his service in Kankakee, and from that time until his death, while attending closely to business, he gave the best of his ability to the service of the public and to charitable and religious works. We recognize in his steady upward progress the benefits conferred by his college education and associations, and the noble instincts developed by them, and while we mourn his loss, we view with the pride and satisfaction of brothers the kind, eager dis- position of our dear classmate as it developed into the earnest and strong character of the man, making him the patriotic soldier, the steady man of business, the loving and devoted husband, the doer of good public and charitable works, and the loyal and upright Christian gentleman ; and we rejoice that those with whom he was associated, and for whom he gave so much of his life and work, so fully appreciated and honored him in his life.