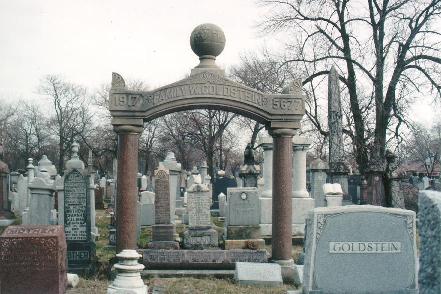 One of the more impressive monuments in this section is this, erected in 1917, belonging to the Goldstein family. Two red granite columns support a lintel, inscribed with the family name, the date 1917, and the Jewish year 5677. It is topped with a sphere inscribed with Hebrew characters.
Wolf Goldstein 1864-1935
Hattie Goldstein 1855-1917
Louis Goldstein 1896-1903
Goldstein's arch is briefly seen in the Kevin Bacon movie "Stir of Echoes".
My photo, above, has been used for the "Death Clock" project.