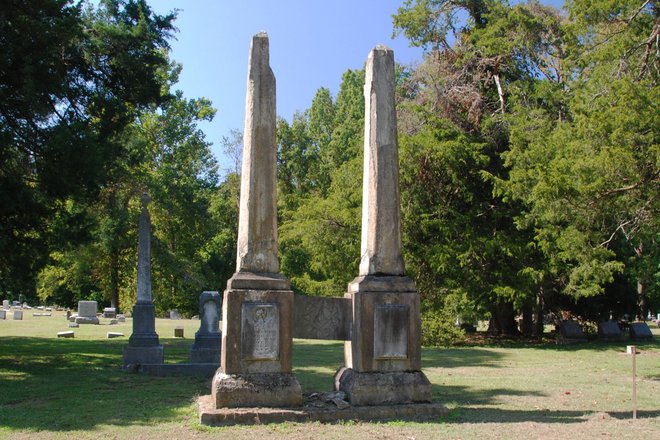 While obelisks are common in most cemeteries, this is an unusal pair in that they are joined together with a connecting stone near the base.
The left monument honours Doctor Daniel Arter (1797-1879), and the obelisk on the right is dedicated to his wife, Milly Arter (1813-1886).
Dr. Daniel Arter was a physician and prominent citizen of the Cairo area. He was born in Maryland in 1797 and practised medicine in Pulaski county, where he resided for twenty-five years, and was considered a "popular and influential citizen, loved and admired". 1
In 1837, Dr. Arter was one of the Pulaski County Commissioners; Perrin notes that Arter had a "peculiar signature".2. The following year, Dr. Arter was a member of the Commissioners' Court. He served on a grand jury of the Circuit Court in 1844. 3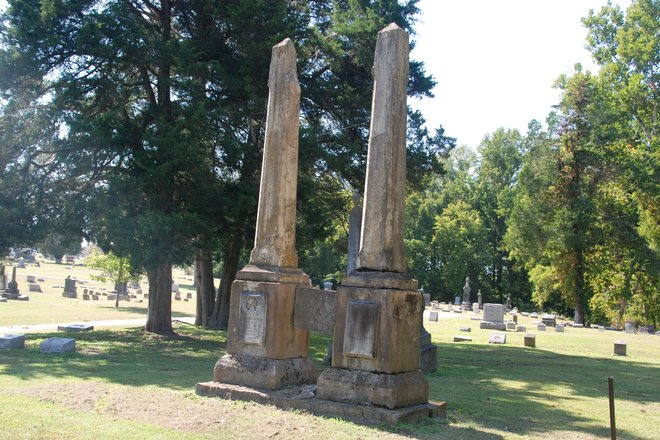 In 1856, Arter was named director of a speculative company, the Emporium Real Estate & Manufacturing Company, which planned to build a grand city, forty square miles, on the banks of the Lower Ohio - "grander than all the cities built since the downfall of ancient Rome". The company purchased land adjacent to the new settlement of Mound City, begun a few years before by General M. M. Rawlings; they platted parks and streets, and sold more than $200,000 worth of lots. The company erected the Shelton House Hotel, framed in Cincinnati and transported to Mound City on steamboats. 4 In 1857, the company received a charter from the Illinois Legislature for the Illinois Southern Railroad. 5. Financial problems plagued the company beginning in June of 1858, and Emporium City was absorbed into Mound City.
From 1861 to 1869, Dr. Arter served as the fourth surveyor of the Port of Cairo, 6 before the construction of the historic Customs House which can still be seen in downtown Cairo. Perrin notes that Arter was always "personally supervising" the affairs of the office.7