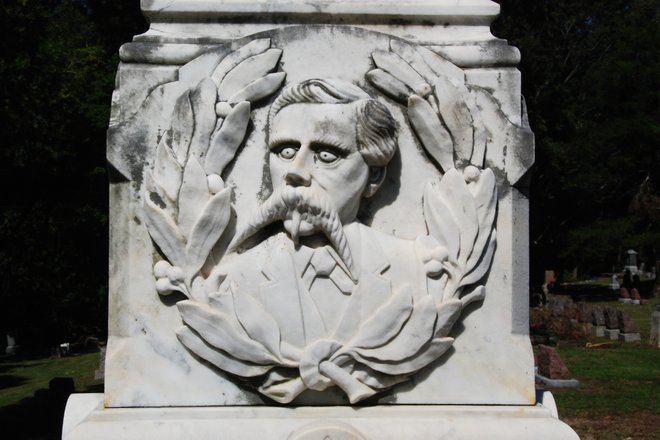 Cairo City Cemetery's most unusual monument is that of William and Mina Alba, which features a wreathed portrait in relief of William Alba on one side. His hair and eyes are finely detailed; as is his extraordinarly large moustache.
William Alba was born in Grosenbuseck, Hesse-Darmstadt, Germany, on 13 June 1837, son of barber Daniel Alba (1807-1857). William Alba was the only one of Daniel's five children by his first wife to accompany his father to America - along with Daniel's second wife and their children. Daniel Alba died in St. Louis in 1857, the same year they arrived in America.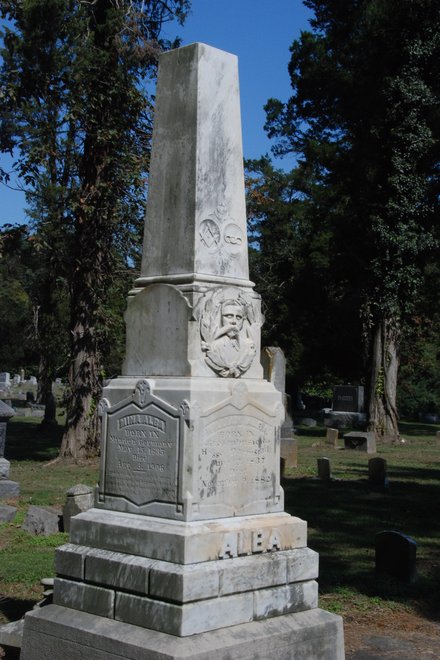 Moving to Cairo, Alba took up his father's profession of barber, employing also his half-brother Conrad, later a prominent Cairo businessman. William Alba married Miss Minnie Lohmeier, 25 February 1872.
Minnie Lohmeier was born in Prussia in 1835, coming to America in 1857 along with her sister. After marrying William Alba, they had five children together, born between 1863 and 1874; their youngest child, Minnie, lived only four years.
William Alba died in Cairo on 9 November 1882, and was accorded full honours by the fraternal organizations to which he belonged. 1

1.
Perrin, William Henry:
History of Alexander, Union, and Pulaski Counties, Illinois
. (1883) p.Biographical/1