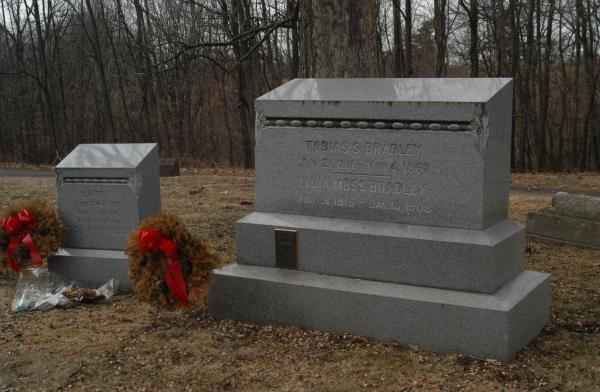 Tobias Bradley and Lydia Moss Bradley (1816-1908) were successful businesspeople and noted philanthropists. Lydia Moss, daughter of Captain Zeally Moss, married Tobias Bradley in 1837.
Lydia Moss Bradley inherited her father's Indiana farm upon his death in 1839. Selling it in 1847, they came to Peoria and purchased more land. Tobias, working with Lydia's brother William, became successful and prosperous, and the Bradleys began to devote some of their wealth and energies to philanthropy.
The deaths of all six of their children at a young age prompted the Bradleys to consider an appropriate memorial to them, such as an orphanage or school. After Tobias's sudden death in a carriage accident, Lydia inherited management of his fortune and business interests. Intelligent and industrious, Lydia prospered, more than doubling the value of what her husband had left behind. She carried through with the project to build a lasting memorial, and, within her lifetime, endowed Bradley Polytechnic Institute, now known as Bradley University.
Lydia Moss Bradley died in 1908, having built a university, a hospital, a home for aged women, parks, and a church.
Sources