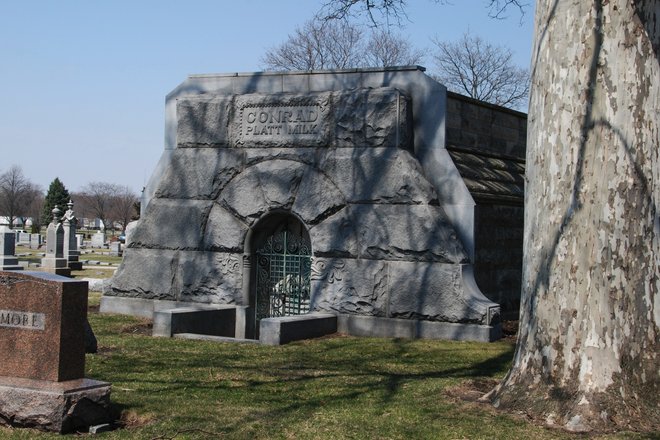 Mound Grove's most elaborate monument is the imposing Conrad, Platt, Milk mausoleum, built from heavy blocks of rough granite. Its entrance, protected by an ornate bronze screen, is set a few feet below ground level, reachable by steps leading down.
Lemuel Milk was burn in Cayuga County, New York, and traveled west to acquire livestock in the 1840s. With his partner William Howard, he settled in Iroquois County, Illinois, in the 1850s, purchasing large amounts of land. 1After Howard's death in 1853, Milk purchased his share of the estate, renaming it "Milk's Grove"; the name survives today as an Iroquois County township.2.
Lemuel Milk married Jane Ann Platt, who was independently wealthy. Their daughter, Jennie Minerva Milk, was born in Milk's Grove on 5 June 1855. 3 In 1878, Jennie married George Conrad, becoming Jennie Minerva Conrad; they moved to Indiana in 1891, where George Conrad died in 1896.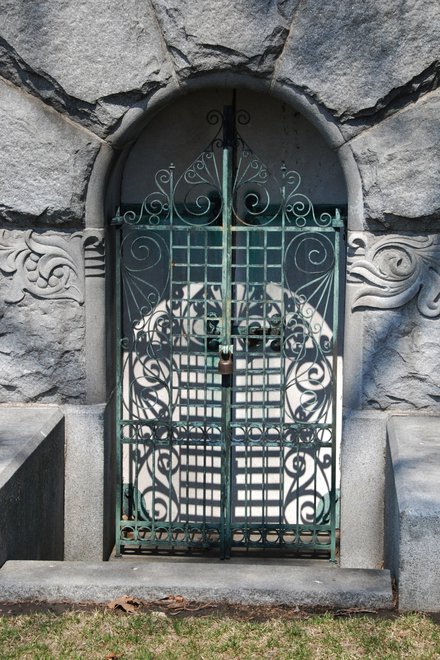 Jennie Conrad, now a widow, managed her farm of five thousand acres, and began a new town: Conrad, Newton County, Indiana, about thirty miles east of Kankakee. Conrad was a planned village with a post office, church, school, shops and houses - and railroad sidings, so Mrs. Conrad could transport her hogs to market. The town's streets and park were named for Jennie and her family members: Conrad Avenue, Edward Street, Hugh Street, Jane Street, Minerva Avenue, and at the center of everything, Platt Park4. Nothing in the town, however, was named for Jennie's father Lemuel Milk.
Jennie protected her property fiercely, taking neighbours to court. She patrolled the boundaries of her farm with a shotgun. On one occasion, catching children who had picked berries from her bushes without permission, she forced them to dump the berries on the ground and stomp them into worthless mush; they later retaliated by setting fire to her wheat field.
The town of Conrad, Indiana has since vanished.