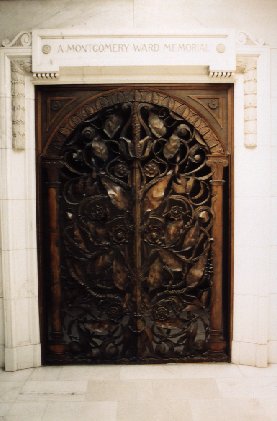 Aaron Montgomery Ward, born Feb. 17, 1844; died Dec. 7, 1913.
In 1872, Aaron Montgomery Ward established the world's first mail-order business.. He had previously worked for Marshall Field as a clerk and later a traveling salesman. As a salesman, he observed and listened to his rural customers, and realized he could offer them better prices by selling to them directly, via mail-order, a revolutionary new concept.
Ward's efforts were very successful. He published a catalog within two years, and, by 1890, moved into a new building at Michigan and Madison in the heart of Chicago's "Loop". In 1899 the "Spirit of Progress", a seventeen-foot statue of a girl, was added to the building. Montgomery Ward and Company was a success, and they continue to operate store in Chicago and beyond to this day.
Ward is equally well-known for his efforts to beautify Chicago's lakefront. Originally, the area east of Michigan Avenue was little more than a dump - piles of debris, squatters' shacks, and railroad tracks. Ward began a movement to clean up the lakefront, and fought for years in the courts. In 1897, he won, and the area became Grant Park as we know it today - an open area, free of all buildings except museums - "Chicago's Front Yard".
Ward and his family occupy a private room in the eastern part of the mausoleum, protected by an ornate bronze gate.