One section of Oak Woods is known as the "Confederate Mound". A 46-foot monument stands alone, surrounded by cannon and cannonballs. Buried around it are an estimated six thousand soldiers and sailors of the Confederacy.

Camp Douglas was a prisoner of war internment camp near the 35th-street estate of Stephen Douglas, named for the late senator. Like all P.O.W. camps of its day, it was rife with communicable diseases - smallpox and dysentery. Conditions were appalling, and thousands died. A group of prisoners plotted to escape the camp and capture Chicago for the Confederacy, but were thwarted by Allan Pinkerton. By the end of the war, thousands had died and been buried in the North Side's old City Cemetery.


A SOLDIER'S DEATH DREAM




Upon the closing of City Cemetery, the bodies interred there were moved to the new cemeteries - Rosehill, Graceland, Oak Woods. The federal government purchased a section of Oak Woods in 1867 to accomodate the 4200 known casualties of Camp Douglas. The coffins were placed in concentric circular trenches. Although the government only had 4200 names, cemetery records indicate that closer to 6000 coffins were buried here. In addition to the unknown number of Southerners, twelve Union soldiers are buried here as well, guards from the camp. Their markers, reading "Unknown U.S. Soldier", stand in a single row behind one cannon.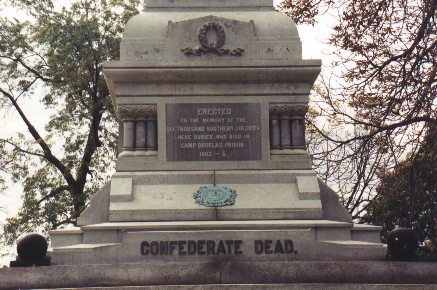 The 46-foot monument was dedicated on Memorial Day, May 30, 1895. Over 100,000 people attended the ceremonies, including large numbers of men from both armies. President Cleveland and his cabinet were there as well. In 1911, bronze panels were added to the base, with the soldiers' names, ranks, units, and home states.
The Confederate Mound at Oak Woods is the largest Confederate burial ground in all the North.
Continued next page...