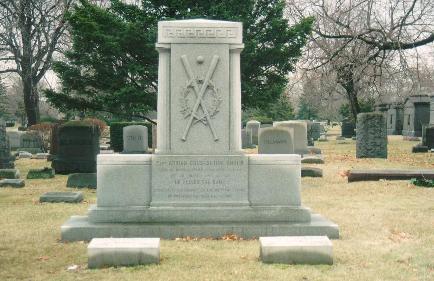 Capt. Adrian Constantine Anson
Born at Marshalltown Iowa, April 17 1852
Died at Chicago April 14 1922
He Played The Game
Erected to his Memory by the National League
of Professional Base Ball Clubs
Adrian Anson organized and played for the University of Notre Dame's first baseball team. He went on to play for the Philadelphia Athletics between 1871 and 1875. When a friend became manager of the Chicago White Stockings, Anson was invited to become a player and team captain. "Cap" Anson became manager in 1879. Anson's White Stockings won five league pennants. One of Anson's players was Billy Sunday, who later became more famous as a preacher.
Anson was a powerful and influential figure in the world of professional baseball. He was the originator of the concept of spring training. He was also responsible for barring Negro players from major league baseball.
Anson retired in 1898. His Chicago White Stockings became the Chicago Cubs in 1907. Anson died in 1922, and was elected to the National Baseball Hall of Fame in 1939.