Peter Schoenhofen (1827-1893), born in Prussia, was the owner of the Schoenhofen Brewery
at 18th and Canalport in Chicago.
A descendant of Peter Schoenhofen, Graf Schenk, was involved in the attempt to assassinate Hitler in 1945.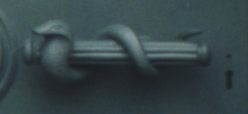 Schoenhofen's pyramid displays the Victorian fascination with Egyptian funerary architecture, which had been sparked by recent archaeological discoveries. The door to the mausoleum is flanked by a female angel, holding a bronze key, and a male sphinx. This combination of Christian and Pagan symbols may seem bizarre, but was not unique in late 19th century cemeteries. Egyptian imagery can also be seen on the tomb of Darius Miller at Rosehill, and the entrance gates to the old section of London's historic Highgate Cemetery.