"Make no little plans,
they have no magic
to stir men's blood."

--DHB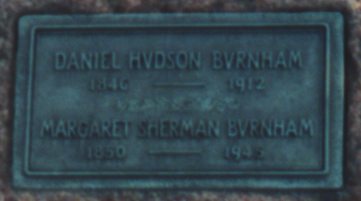 Daniel Hudson Burnham (1846-1912), an architect and city planner, is responsible for many of the features of Chicago today. Wacker Drive, and the parks along the lakefront were among the ideas in Burnham's Chicago Plan of 1909. Not all of the plan was fulfilled - Wacker Drive was meant to be encircle the Loop entirely, and there was to have been a civic center complex further west.
Burnham gained fame as the chief of construction for the World's Columbian Exposition in 1893. Burnham's "White City" influenced a great many architects to favor the neoclassical style over the next few decades, in spite of Sullivan's claims that architecture in America had been set back years.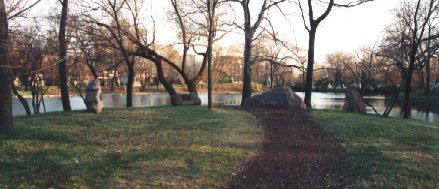 Burnham and his family are buried under natural glacial granite boulders on a small island near the northern end of Lake Willomere. Burnham's island is reachable via a permanent footbridge.