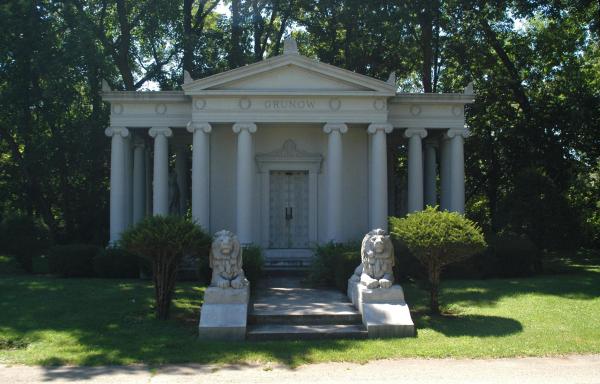 William C. Grunow
William Grunow was a partner in the Grigsby-Grunow Company, manufacturer of "Majestic" brand radios. Although the company went bankrupt during the Great Depression, it was reformed into the Majestic Radio & Television Corporation and General Household Utilities, producing radios, phonographs and refrigerators.

Grunow next turned to an entirely different industry - poultry farming. His farms were named Val-Lo-Will, after his children Valerie, Lois, and William.

Grunow's classical mausoleum of white granite is the second largest at Forest Home. It is perched above the east bank of the Des Plaines River; only a few feet behind it the ground drops away sharply.

Viewed from the sides, it is even more remarkable...