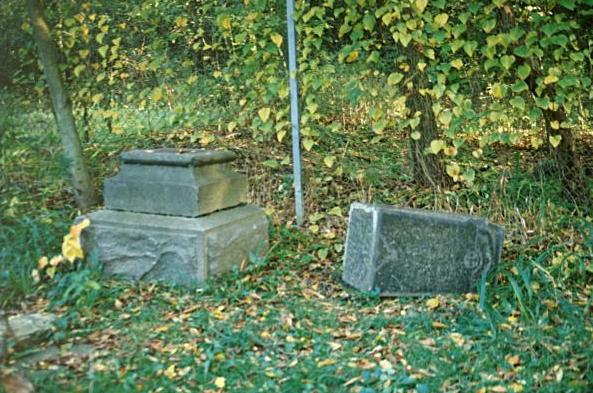 Immediately west of the main entrance we see the Hageman monument, knocked off its base. Newspaper photos from 1980 show that it was intact at that time; it was toppled some time between 1980 and 1996.
Behind the monument, ivy has grown into the fence, creating a curtain of green.
On April 21st, 1989, just outside the entrance to Bachelor's Grove Cemetery, a body was found. Martin Myers, age 43, had been shot in the head and abdomen. Myers himself was a murder suspect, awaiting trial after having killed a man, Mark Tilton, by running him down with his truck. Eventually, the ex-girlfriend of both Myers and Tilton confessed to killing Myers; the killing was ruled a self-defense due to Myers' history of abuse.
This concludes our first circuit of Bachelor's Grove, featuring photos from 1996 and 1997. The pages that follow contain some older photos and a map, followed by photos from a 2004 expedition.