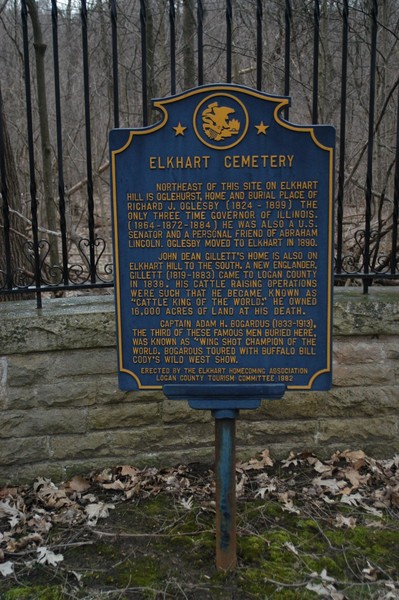 The informational marker reads:
Elkhart Cemetery
Northeast of this site on Elkhart Hill is Oglehurst, home and burial place of Richard J. Oglesby (1824-1899), the only three time governor of Illinois (1864-1872-1884). He was also a U.S. Senator and a personal friend of Abraham Lincoln. Oglesby moved to Elkhart in 1890.
John Dean Gillett's home is also on Elkhart Hill to the south. A New Englander, Gillett (1819-1883) came to Logan County in 1838. His cattle raising operations were such that he became known as "Cattle King of the World." He owned 16,000 acres of land at his death.
Captain Adam H. Bogardus (1833-1913), the third of these famous men buried here, was known as "Wing Shot Champion of the World". Bogardus toured with Buffalo Bill Cody's Wild West show.
Erected by the Elkhart Homecoming Association
Logan County Tourism Committee 1982