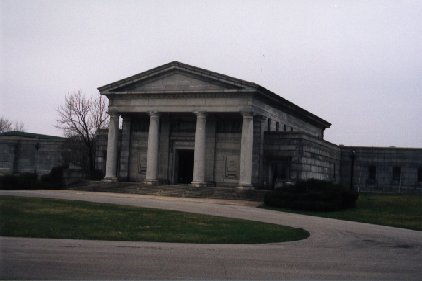 Rosehill Mausoleum, dedicated in 1914, was designed by architect Sidney Lovell, who is himself entombed within. It is the grandest mausoleum in Chicago, in terms of size and beauty. The interior is almost entirely of marble, with even the floors composed of Italian Carrera marble.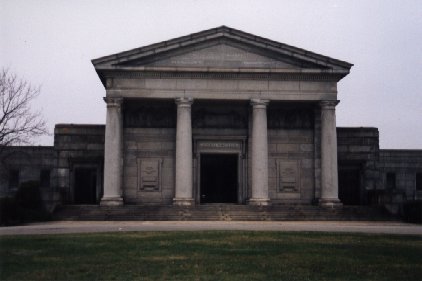 The mausoleum has two levels, with the lower level partially underground. Each section has an entirely different character. Some parts, particularly in the west wings, consist mainly of large rooms or corridors lined with crypts. In the east, there are many small private rooms, each owned by a particular family, most with heavy bronze gates. Some of these private rooms have spectacular stained glass windows by Louis Tiffany and other artists.
Shown here is the East entrance to the mausoleum, resembling a Greek temple. In keeping with its classical style, a carved frieze runs across the front.
The front door is usually locked and inaccessible. We will therefore begin our tour of Rosehill Mausoleum at the southwest entrance.