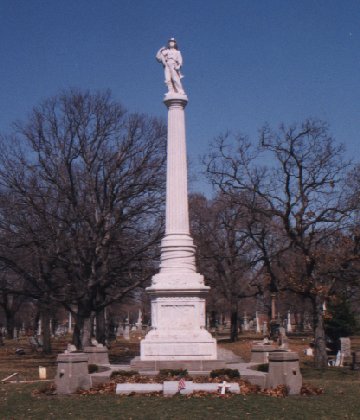 This Monument was Erected in 1864 To Honor All the Courageous Volunteer Firefighters of Chicago.
Rededicated October 7, 1979, Chicago Firefighters' Union
The Volunteer Firefighters' Monument was designed by Leonard Volk, who is also buried at Rosehill. A vigilant fireman stands atop a tall column, around the base of which is wrapped a fire hose. Four old-style hydrants make up the corners of this memorial. The granite marker at the base contains the names of all firefighters killed in the line of duty, and the dedication statement shown above.
This monument had been badly discolored by the weather. It was recently treated chemically, to restore the original brilliant white of the marble.
The funeral scene in the movie Backdraft

. was filmed using a replica of this monument.