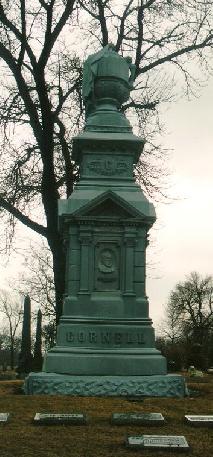 Paul Cornell (1822-1904), a lawyer from new York, was the founder of the town of Hyde Park.
At the encouragement of Senator Douglas, the young lawyer decided to develop the area south of Chicago and north of the Calumet river. In 1853 he bought three hundred acres of land between 51st and 55th streets. He convinced the Illinois Central Railroad to buy part of this land and build a station, and he built the Hyde Park Hotel. Cornell hired Frederick Law Olmstead, the same landscape architect who designed Graceland Cemetery, to create Washington Park and Jackson Park (later site of the 1893 World's Fair).
Hyde Park was incorporated as a township in 1861. In 1889 it was annexed into the City of Chicago. Cornell lived long enough to see Hyde Park become the site of the World's Columbian Exposition and the University of Chicago. He died in Chicago in 1904.
Cornell's monument is of white bronze (zinc), and, at about fifteen feet tall, is the largest of this material to be found in the Chicago area. The lowest step is buckling from the weight, its sides visibly bulging outward.