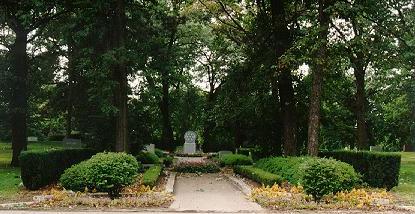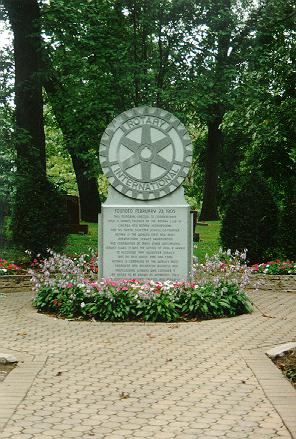 The Rotary International garden features a path between rows of bushes, with burials on either side. Several Rotarians have donated benches. On the central monument are the words:
This memorial erected to commemorate Paul P. Harris, Founder of the Rotary Club of Chicago and Rotary Intarnational, and his friend, Silvester Schiele, Co-Founder. Rotary is the world's first and most international service organization and forerunner of many other outstanding service clubs. It was the genius of Paul P. Harris to recognize that volunteer service was an idea whose time had come. Rotary is comprised of the world's most prominent and influential business and professional leaders who consider it an honor to be known as Rotarians...
Paul P. Harris, a Chicago lawyer, organized the first meeting of what would become the first Rotary club with three friends in 1905. They eventually chose the name "Rotary" because meeting locations were rotated among the houses of members. Paul Harris died in Chicago in 1947.
Rotary International

graveyards.com - copyright 1996-2002 Matt Hucke