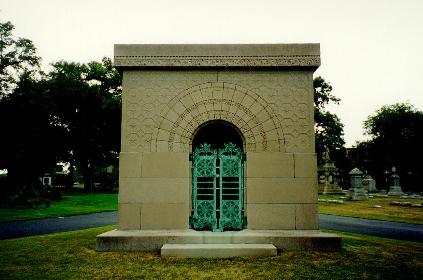 Henry Harrison Getty (1838-1920), a lumber merchant, commissioned this tomb for his wife Carrie Eliza Getty in 1890. Getty chose Louis Henri Sullivan to create his wife's tomb, admiring the work Sullivan had recently done for Getty's partner, Martin Ryerson.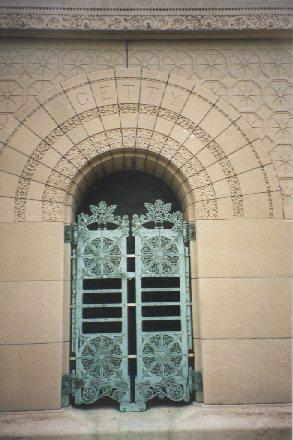 Sullivan's Getty Tomb has been called "the beginning of modern architecure in America", and was designated a city landmark in 1971 by Mayor Daley.
The Getty tomb is in the shape of a cube, with the roof overhanging the walls slightly. Sullivan's trademark arches are above the doors and windows, concentric arches with radial spokes. Octagons fill the space around the arches on the upper half of the walls. An intricate bronze gate with floral and geometric patterns, another Sullivan trademark, stands in front of the equally ornate door. A plaster cast of this doorway won Sullivan an award at the Paris Exposition of 1900.