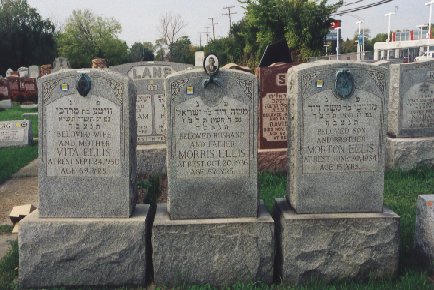 The Ellis Monuments feature bronze picture frames. Typically, the picture is attached to the stone, and the door serves merely to cover it. These are of an unusual design - the picture is attached to the underside of the door and is suspended upside-down until lifted (as seen on the center monument).
Beloved Wife
and Mother


Vita Ellis

At Rest Sept 24, 1950
Age 69 Yrs.
Beloved Husband
and Father


Morris Ellis

At Rest Oct. 20, 1936
Age 57 Yrs.
Beloved Son
and Brother


Morton Ellis

At Rest June 30, 1934
Age 15 Yrs.
NEXT: