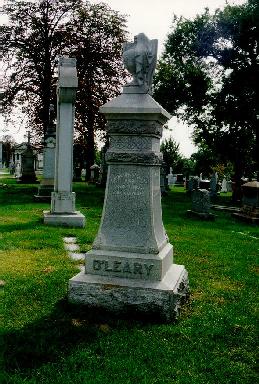 The summer of 1871 had been unusually hot and dry, conditions that persisted into October. Only a single inch of rain had fallen since July. On the night of October 8th, in the stable behind the home of Patrick and Catherine O'Leary at 137 DeKoven Street (near Halsted and Twelfth), a fire began. It is often said that the cause was a cow kicking over a kerosene lamp, but there was never any factual basis for this claim. The truth will never be known.
Fanned by the 30mph wind, the flames rose quickly and spread to the north and east. Firefighters did not arrive until a half hour after the first sighting of the flames - by this time the fire was out of control. Flames up to 100' high raced through the neighboring buildings, towards the city's center to the north and east. The south branch of the Chicago River proved an ineffective barrier. The courthouse, where President Lincoln's body had lain in state six years before, collapsed around 2 am. Magnificent hotels were destroyed, including the Palmer House, the Tremont House, and the new Grand Pacific, the roof of which had been completed only days before. Marshall Field's "marble palace" was destroyed while Field and his staff carried merchandise to the lake shore, where it was guarded against looters.
The fire continued nearly a day and a half, finally burning itself out on the afternoon of the tenth. It had gone as far north as Fullerton avenue. All of the downtown business district was destroyed, with the Water Tower on North Michigan being one of the few surviving structures. At least 250 people had been killed, over 100,000 left homeless.
The O'Leary's lived out the rest of their lives avoiding the news media and sensation-seekers. Patrick died in 1894, Catherine in 1895. Their children James and Anna are buried here as well. James O'Leary, also known as "Big Jim", was one of Chicago's most notorious gambling house owners in the early part of the 20th century.
graveyards.com - copyright 1996-2002 Matt Hucke