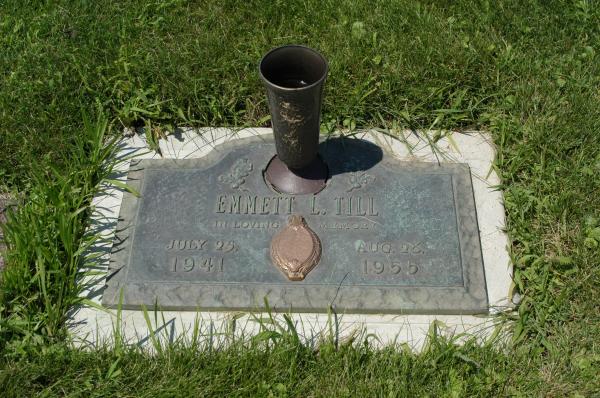 American Experience
The Confession in Look
Heroism.org: The Lynching of Emmett Till
Watson.org: The Murder of Emmett Till

Emmett Till
Murdered August 27th 1955
"The hate crime that changed America"

In the summer of 1955, fourteen-year-old Emmett Till of Chicago was allowed by his mother to travel to the South to visit relatives. His murder was to become a major catalyst of the 20th-century Civil Rights movement.

Emmett was staying with his uncle Mose "Preacher" Wright (also buried at Burr Oak) near Money, Mississippi, an area of crushing poverty where racial tensions were already high. While bragging to his cousins and other local youths that he had a white girlfriend at home, one of them challenged him to talk to a white woman in a store. Emmett accepted this challenge, bought some candy, and said something to the shopkeeper's wife, 21-year-old Carolyn Bryant. What exactly was said differs according to various witnesses; it might have been "Bye, baby", or "Don't be afraid of me, baby. I been with white girls before."

In that time and place, such familiarity from a Black youth to a married White woman was an intolerable insult. Roy Bryant and his brother-in-law J.W. Milam waited a few days, then came to the Wright cabin at night. They demanded to see the boy from Chicago and drove off with him. He was not seen again for three days - when his battered corpse was pulled from the Tallahatchie River, a bullet in his head. Only by recognizing his ring was his uncle able to identify the body.

Emmett's mother Mamie asked to have his body returned to Chicago, whereupon she demanded an open-casket funeral, which was attended by thousands. Jet magazine published pictures of Emmett's mutilated and bloated face. The nation was outraged.

Bryant and Milam had made no effort to avoid recognition, and they were arrested for kidnaping before Till's body was even found. But when northern attention was attracted, the south moved to protect its deeply-entrenched segregation; prominent lawyers volunteered to represent the killers, and they were acquitted by an all-white Mississippi jury after only an hour of "deliberation".

The killers later sold their story to Look magazine. This account revealed that they beat him, but when Emmett was insufficiently repentant, they decided to kill him in order to make an example of him; they took him to the edge of river, made him strip, and shot him in the head; then tying his body to a heavy fan they dumped him into the river.

Bryant and Milam never received justice. Even after their public confession of murder, they were never punished, and both died of natural causes.

Emmett's mother, Mamie Till (later Mamie Till-Mobley), dedicated the rest of her life to making his story known. She is buried in the most prominent location at Burr Oak, just inside the entrance, and near the site of the future Emmett Till Museum.

On 31 May 2005, Emmett Till's body was exhumed at the order of the FBI so that an autopsy might be performed. His concrete burial vault and all it contained were lifted onto a flatbed truck after a private service attended by friends and relatives. Till was reburied in the same location, in a new coffin, on 4 June.